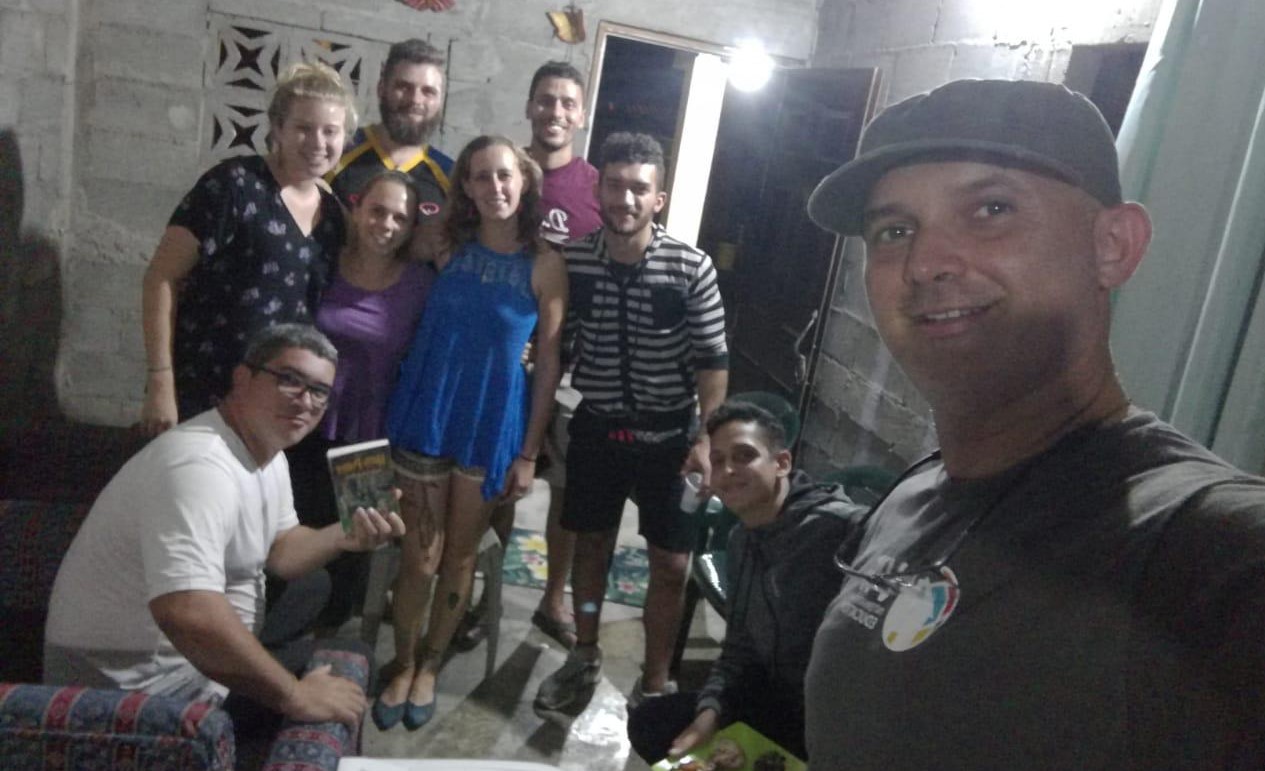 For my entire life, the Thanksgiving and Christmas holidays have been my favorite days of the year. Growing up, only the five days of Girl Scout Day camp in June could ever compete with the crazy fun of Grandma Bries' house or the warm coziness of being with Grandma and Pappap twelve hours away from home. And although it got harder and harder to make it all the way out to that side of the family, and we eventually stopped making holiday trips, those memories of Christmas will always remain and tug at my heart. The annual Thanksgiving or Christmas trip to Grandma Bries' never stopped, and although we didn't go as a family, I began making my own trips to see Grandma and Pappap.
But this year is different. Instead of being with there, surrounded by shouting cousins and joking aunts and uncles in a heated home while the temperatures plummet outside, I'm sweating it out in Panama. Thanksgiving evening, alone in a hotel room in my regional capital, I called family members one by one. First, Grandma and Pappap, then my brother who was with almost the entire Bries family, and finally, my dad, who, like me, was alone in a foreign country (It doesn't take a DNA test to know I'm my father's child).
It was a strange feeling, to be so far removed from the life I have known. I couldn't help but think about something that was said during staging, my last step back in February before boarding a plane to arrive at the next two years of my life. During staging, my group of 40-some volunteers were walked through the expectations of Peace Corps and were responsible for making our own slogans or rhymes for each expectation to easily remember them. The first expectation was "Prepare your personal and professional life to make a commitment to serve abroad for a full term of 27 months" and our first catch phrase was "Life on Pause." Until I objected. I argued that our life was not on pause, just a different life, and we all reached an agreement to change it. But what didn't really sink in to me then was that life isn't on pause back in the U.S. either.
Being away from that life can be gut-wrenchingly hard. Everything in the states is continuing, I'm just not there to experience it. Friends have gotten engaged, made life-altering decisions, and had children. Family members have moved, gotten promoted, and accepted new jobs. But here, 3,000 miles away, I can only see it all through a six-inch screen perched on my signal spot on the water tank.
Despite all of that – despite being away from my family, from not experiencing the laughs at the gift table or the cozy cheerfulness of settling in for a night under blankets with a full belly in a house where every bed is occupied – I had a wonderful Thanksgiving. Two, actually. The volunteers of my province somehow managed to pull together a Thanksgiving meal – with chicken instead of turkey – in the apartment of our regional leader. And the next day I got to experience another Thanksgiving with both volunteers and Panamanians in the house a friend of mine, complete with a washing machine full of beers (we didn't have a cooler).
I thought I would be sad this Thanksgiving, so far from the crazy family I love. But tonight, several days later, trying to convince myself it really is December, and reflecting on the past incredibly fun-filled week, I am realizing it will be a Thanksgiving to remember. I didn't eat turkey, or drink homemade wine, or laugh at the pranks or jokes being made with my crazy aunts and uncles. But I was with people I love and that is something to be thankful for.
And next year, when the holidays roll around, I may make the flight … or I might not. But either way, I will find people I love – whether it's other volunteers or the new families I have found here in my community – and celebrate my favorite days of the year with them.